Many people will travel during the next few months, and whether it is by plane or car there are a few simple tips to remember to avoid body aches and pains, and even life threatening issues.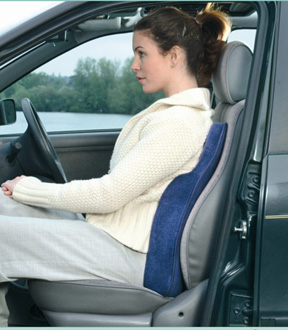 As a physical therapist many patients ask about different ways to avoid low back pain while traveling. A simple answer is a lumbar support, which looks like a small pillow but is curved to support the low back. This can be used by people with or without low back problems and can be small enough to travel with on a plane. There are larger lumbar supports that can be used in the car during long road trips, as well. Although this is a helpful tool, another tip that is important to remember is to try to get up from your seat on a plane or out of your car for a stretch as often as possible.
Ouch!! My legs are cramping so badly in the middle of the night! Why is this happening to me? Many patients I see come complain of muscle cramping in the middle of the night, and sometimes during the day
.
Most of the time the best advice I can give them is to drink more water, not coffee or tea. It is a common misconception that drinking anything will keep the body hydrated but this is incorrect. Read More
In this video clip I am demonstrating a slow and controlled Tai Chi walk. You will only see the leg movements because we are focusing on the weight bearing aspect of this exercise as well as balance.
Notice that the exercise is performed slowly, with controlled movements to recruit several different muscle groups. Watch the clip as many times as you need before performing the walk to make sure you are clear on the proper movements. As mentioned in the video, you want to maintain the proper posture and keep the core tight. Read More
More Articles...